Welcome to Squirrels
Spring term 2019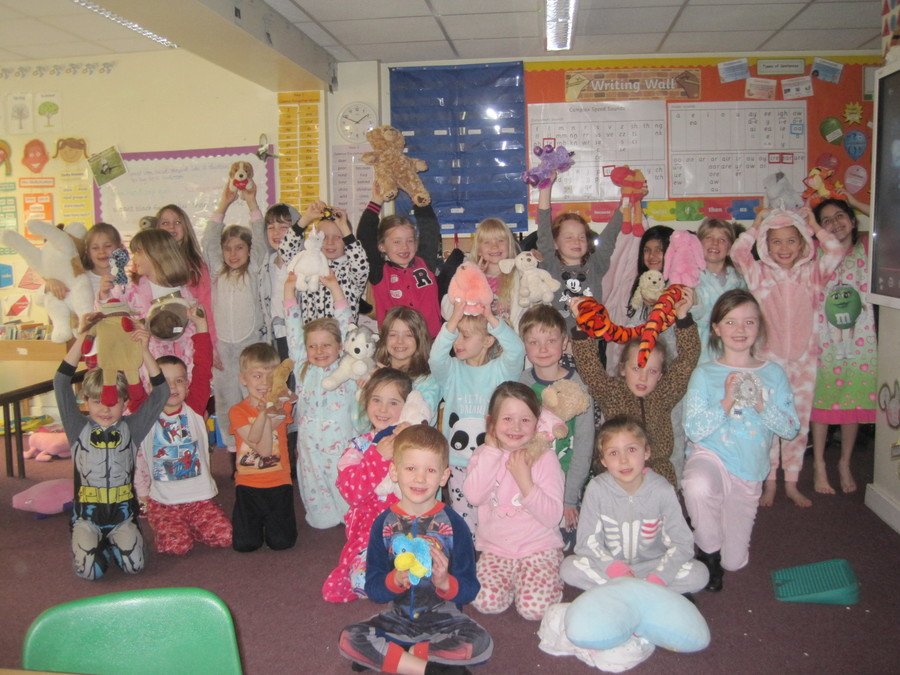 Happy Easter everybody! We hope you all have some fantastic family time over the next couple of weeks. Don't forget to keep an eye on the school bird box over the holidays. http://www.seenature.org.uk/schools/ascot-heath-infant-school/
Squirrels have enjoyed their well deserved marble party today, snuggled up in their PJ's with their teddies.
5.4.19
This week we have been:
Taking part in the team big book quiz, based on some of the books we have read throughout the year.
Working independently to complete a reading quiz.
Using tissue and sugar paper to create an Iron man silhouette picture.
Writing an Iron Man riddle using joining words and adjectives.
Writing common words in dictated sentences.
Solving mass word problems.
Reading scales, including thermometers to measure temperature.
29.3.19
The children really enjoyed book day and coming in as their favourite characters. We practised our oracy skills by interviewing each other about our favourite characters and then wrote riddles about our characters and challenged each other to solve them.
Friday was an exciting day as we finally managed to fill that last little space in our marble jar, thanks to some excellent behaviour walking in from lunch. Squirrels have worked hard to earn all their marbles this term and we will be having our marble party on Friday. The children have chosen a cinema and PJ's party with a smoothie bar.
29.3.19
This week we have been: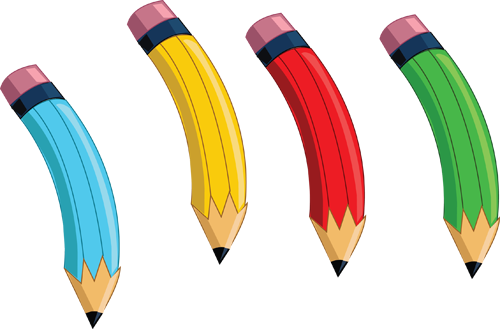 Finishing the story The Iron Man and taking part in a drama activity with the company FASBAT.
Learning an Iron Man dance with the West End Theatre Company.
Reading a variety of scales where not all the divisions are numbered. Have a go at home: http://www.ictgames.com/mobilePage/mostlyPostie/index.html
Using Venn diagrams to sort objects and numbers.
Linking multiplication and division.
Using tin foil to create Iron Man sculptures.
Writing a riddle about the book character we were dressed up as.
Making Mother's Day cards.
Book Topic - The Iron Man by Ted Hughes
..
We had a great session with the Fasbat team exploring the first chapter of the story. We explored different drama techniques and had lots of fun along the way!
We made our own Iron Men using tin foil. We folded, twisted and shaped the foil to create the perfect model!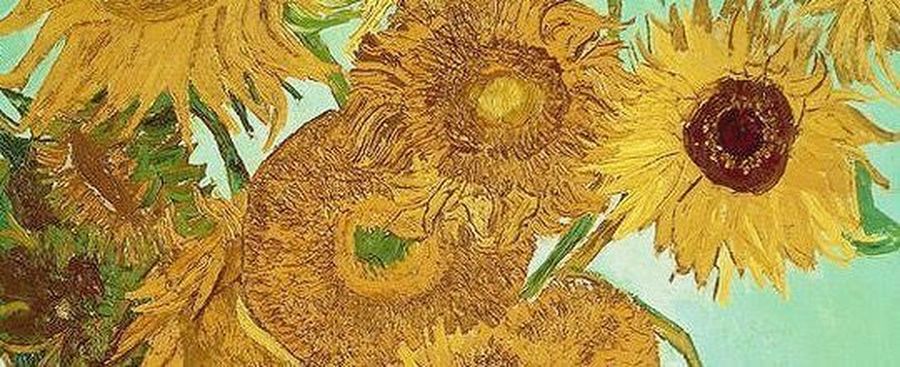 22.3.19
Squirrels have enjoyed art week and have produced some fantastic pieces of art based on Van Gogh's Sunflowers. They have used lots of skills and different materials including clay, oil pastels, collage, and marbling.
22.3.19
This week we have been: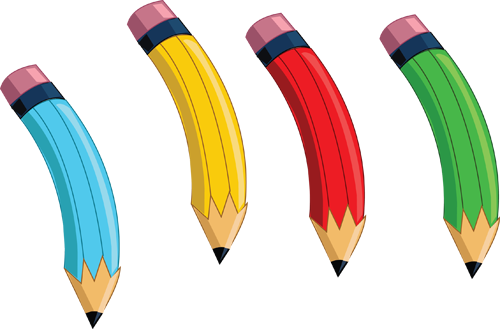 Discussing the sunflowers painting by Vincent Van Gogh.
Using oil pastels to create our own sunflowers picture.
Using clay to mold our own sunflowers.
Taking part in an art workshop in different classes in the school.
learning about the primary colours and using them to make other colours.
Working together to solve questions in maths quizzes.
Finding fractions of a number.
Linking the 2 and 10 times table to division, e.g if we know 2x6=12 we know 12 divided by 2 is 6.
Practicing finding the answer in a text we have read.
8.3.19
Keeping healthy activities continued this week with finding out about how to keep clean and how to relax and be calm.
The Glitter experiment.
We were all given a small amount of glitter to put in our hands and then Mrs Rogers asked us to do some jobs around the room. For example tidy up the coats, sort the pen pots, tidy our trays, tuck the chairs under etc. Mrs Rogers asked us to imagine that we had sneezed into our hands and each tiny piece of glitter was actually a bacteria or virus that had come out of our mouths. She asked us to use a magnifying glass to find out where the glitter had spread to around the room. It was everywhere! Everything had been touched including ourselves. We were really surprised.
Mrs Rogers told us how important it was to clean these germs away and then showed us how to wash our hands properly. She just quickly dipped her hands in the water for a few seconds but the glitter was still on her hands. So this time she used soap and counted to 20 while she washed in between all her fingers, around her thumb, top and bottom and then rinsed them really well. There were only 2 tiny bits of glitter left.
We learnt how germs can spread really easily and that it's important to clean our hands before we eat and after we go to the toilet and especially if we have a tummy bug and cold. It was interesting to learn too that some bacteria are actually very good and helpful too (helping things to rot away, making yoghurt etc.) and that we shouldn't be scared of them.
(Following the glitter explosion in the class room we also learnt that it's important to clean our rooms too, so fingers crossed the children will offer to help with some housework this weekend. )
8.3. 19
This week we have been: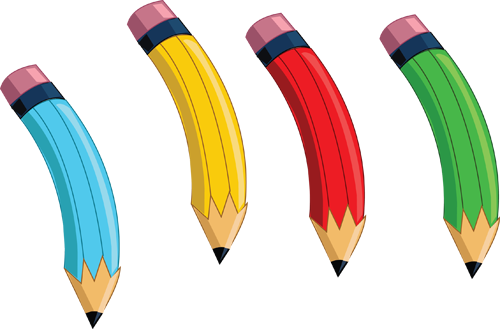 Making up our games where we throw and catch equipment in different ways.
Controlling balls by rolling.
Estimating and measuring the capacity of different containers.
Reading a scale.
Solving addition and subtractions sums.
Practising fractions of a number.
Discussing how to be hygienic.
Using the story 'Monkey Puzzle' by Julia Donaldson to learn about animals and their offspring.
Thinking about how we can keep our minds happy and healthy.
1.3.19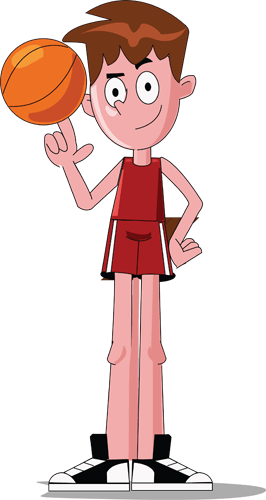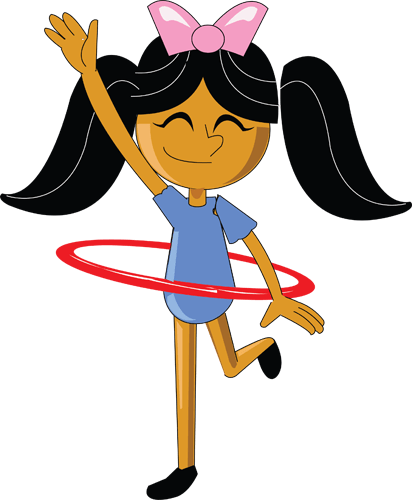 We started our first week back learning about how to keep ourselves healthy. The children enjoyed celebrating the sports and hobbies they take part in, including tap dancing, ballet, skiing, horse riding, kick boxing, javelin, cycling, gymnastics and swimming to name a few. Then on Friday we thought about a balanced diet and the different things our body needs. The children made some very tasty looking fruit kebabs. We will continue next week, learning the different ways we need to keep clean and how to keep our minds healthy.
As I'm sure you have probably been told that our class assembly is coming up soon on Wednesday the 13th of March and we will be practising this week. The children have been learning a song and some of them have asked if they can practise at home. Please click on this link to find the song on you tube.
1.3.19
This week we have been: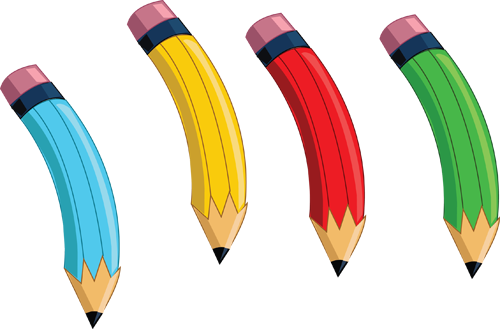 Problem solving using money.
completing Sometimes, always, never maths problems.
Measuring accurately using a ruler.
Learning how to use the internet to search for information.
Practising our throwing and catching.
Writing reports about our favourite sports.
Finding out about the different food groups and why it's important to eat a balanced diet.
Designing our own healthy meals.
Making healthy fruit kebab snacks.
...
15.2.19
Squirrels and Foxes enjoyed a very special 'Royal day' at school on Friday.
Thanks to their wonderful job applications last week to apply to become monarch, they successfully completed their training day today.
The children took part in special etiquette lessons; walking with good posture, speaking and pronouncing properly, learning how to wave, bow and curtsy as well as making their own crowns and attending a royal banquet.
Thank you so much for the wonderful costumes- from beautiful princesses of old, to modern day Prince Harry's.
We hope you all have a restful half term break.
15.2.19
This week we have been: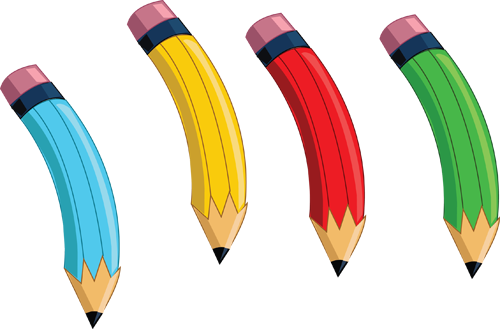 Finding different combinations of coins that equal the same amounts of money.
Solving simple problems in a practical context, involving addition of money and giving change.
Working in teams to Create our own garden of dreams and goals and setting our own goals.
Practising subordination.
Creating our own art work in the style of Paul Klee.
Enjoying our Royal day having etiquette lessons, making crowns, learning how to do a royal wave, enjoying a banquet.
This week we have been: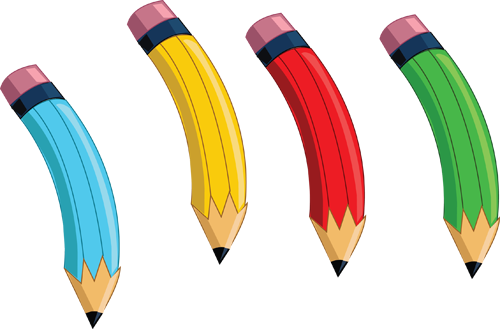 Telling the time (O' clock, half past, quarter past and quarter to).
Addition and subtraction missing numbers.
Using sharing to solve fractions of a number (1/2 and 1/4).
Using a database on the Learn Pads to answer search questions.
Completing our applications for the role of monarch.
Researching the features of castles.
Creating a castle leaflet.
Moving over, through and across the wall bars in gymnastics.
Painting a portrait of the queen.
6.2.19
Last week we received a very special letter inviting us to apply for the role of monarch.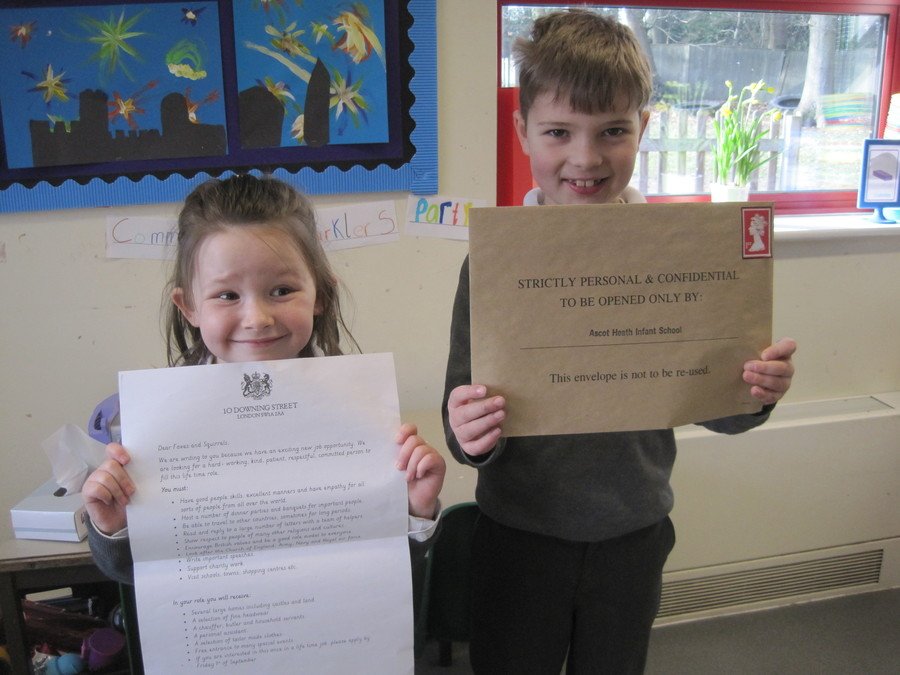 We thought carefully about why we would make excellent kings and queens.
Alfie - 'I have good dinner manners.'
Charlotte -'I am very good at organising and I like driving in posh cars.'
Joey- ' I am helpful, smiley and kind.'
Maggie-' I am good at hosting play dates.'
1.2.19
This week we have been: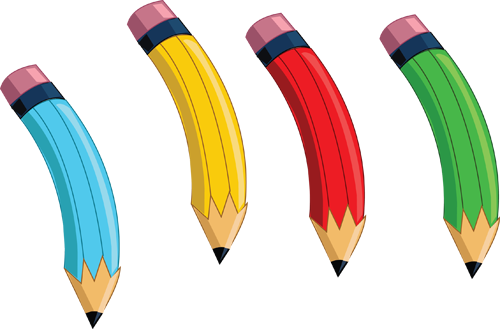 Practising our 2, 5 and 10 times tables.
Solving addition and subtraction word problems.
Using the inverse to solve and check number sentences.
Creating a mindmap about why we would make an excellent monarch.
Discussing the question 'who is the queen and what does she do?'
Putting key events on to a timeline.
Creating our personal timeline, thinking about what has already happened and what might happen in the future.
Having lots of fun during the snow day!
This week we have been: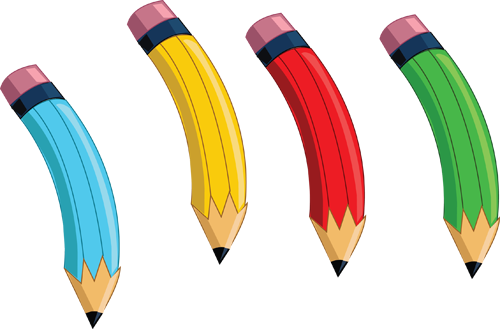 Dividing using the sharing and grouping method.
Practising x and ÷ word problems and showing our working out to prove our answers.
Sorting things into living, once living and never lived groups.
Investigating habitats and writing funny mixed up habitat poems.
Doing the Woolly worm experiment to learn about the importance of camouflage.
Considering how our wild garden is a habitat to many living things.
Using scientific words to describe food chains. E.g. predator and prey.
Learning when to us 'a' and 'an'.
Balancing on a line whilst lifting up our knees.
18.1.19
This week our focus has been on R.E. and learning all about Muslim prayer.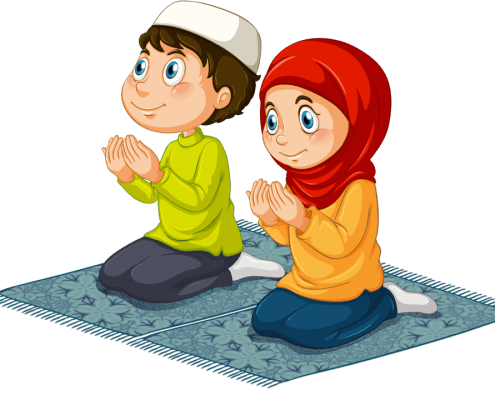 The children were challenged to commit to improving their fitness, by stopping 5 times during the day when they heard a bell. We all faced the same direction and for 2 minutes we carried out an exercise such as jogging on the spot or star jumps and stretches. Then we got back to our learning. At first the children enjoyed this and thought it was fun. However on the 3rd, 4th and 5th time the children had some different feelings about the activity.
'Do we have to do this again?'
'It's a bit annoying. I've forgotten what I was writing before we stopped!'
'It's nice to have a break and a stretch.'
'I'm feeling a bit tired now.'
They learnt that it was hard to commit to this and that it took some perseverance! We watched a video of a Muslim family praying. We talked about the similarities and differences to the activity we did and the children realised how dedicated the family was to praying every day and they considered if praying helps them with their every day life. I was really proud of the responses children gave and how they respected each other's opinions.
'I think it helps because they can share their worries and hard times with Allah so it helps them to feel better.' - Matilda
'I think it is important to go through hard things, so it helps you be stronger and if they always ask Allah for help they might
not go through tough things.'- Nika
'I don't think I could be a Muslim because I wouldn't be very good at stopping 5 times a day to pray.'- Eilidh
'I think it helps them because they might need to talk to God for advice.'-Joey
'When they pray they say thank you to Allah so it makes them feel good.' -Alfie
Have a look at some of the children's prayer mats they designed below.
18.1.19
This week we have been: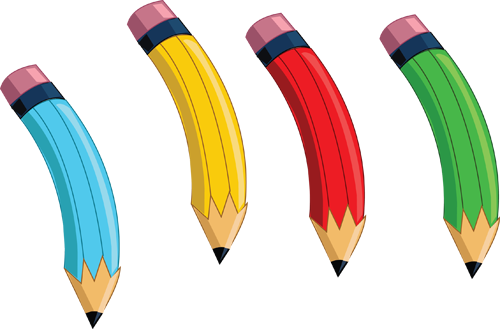 Learning about how and why Muslim's pray in RE.
Designing our own prayer mat.
Learning the different prayer positions.
Using Mickey Mouse ears to solve missing number sums.
Practising addition and subtraction sums.
Finding the difference between two numbers.
Counting forwards and backwards in 10s from any two digit number.
Using subheadings to write about what we have learnt about praying.
Spelling common words: eye, could, should, would, who and whole.
Making different pathways on our hands and feet in gymnastics.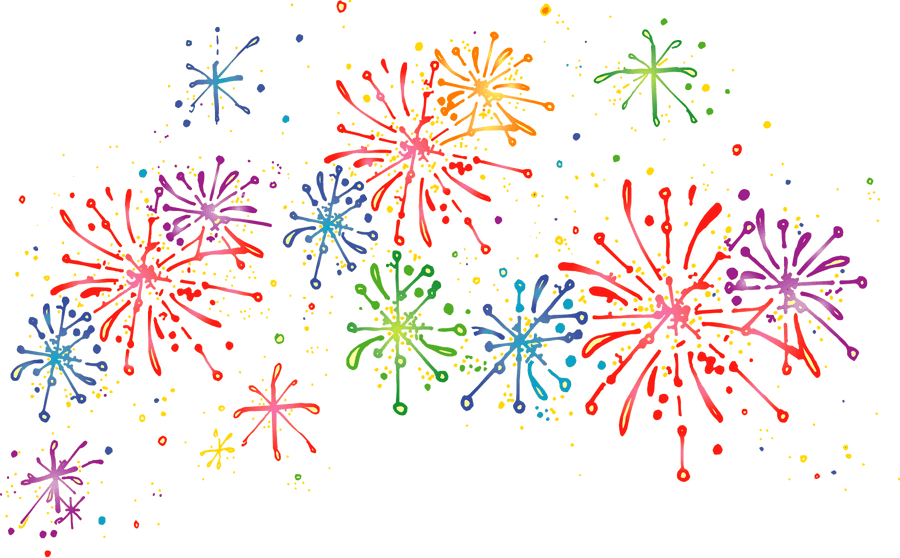 11.1.19 Happy New Year!
The children have settled back into school brilliantly this week and they have loved sharing all their Christmas news. Please see the curriculum page for our new topic web and hopefully you found home learning grids in book bags on Friday. The amount of home learning your child does is completely up to you, however we would encourage you to keep up the good work and read with your child as much as you can, asking lots of questions.
The children have absolutely loved investigating 3D shapes this week. They have been completing this skeleton shape challenge. https://nrich.maths.org/1156/index It is a great activity to do at home with some straws and plasticine/playdoh and also gets them thinking about lengths of sides too.
Skeleton shapes are made with balls of modelling clay and straws. This shows a cube and a skeleton cube:
How many balls of modelling clay and how many straws does it take to make the cube? Here are some piles of modelling clay balls and straws:
Look at the shapes below and decide which piles are needed to make a skeleton of each shape.
11.1.19
This week we have been: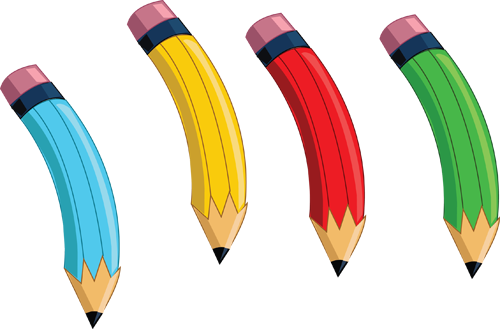 Investigating the properties of 2D and 3D shapes.

Building skeletons of 3D shapes to find out how many edges they have.

Using logical methods to solve an 'amaze- ing' maths problem.

Considering what makes a good speaker and using these skills to share our Christmas news with each other.

Writing about our holidays using the past tense.

Learning about new year celebrations and writing our own new year resolutions.

Practising layering painting techniques and cutting skills to create our own firework paintings with landmark silhouettes.

Travelling in different ways in gymnastics.