Welcome to Rabbits Class!
Autumn term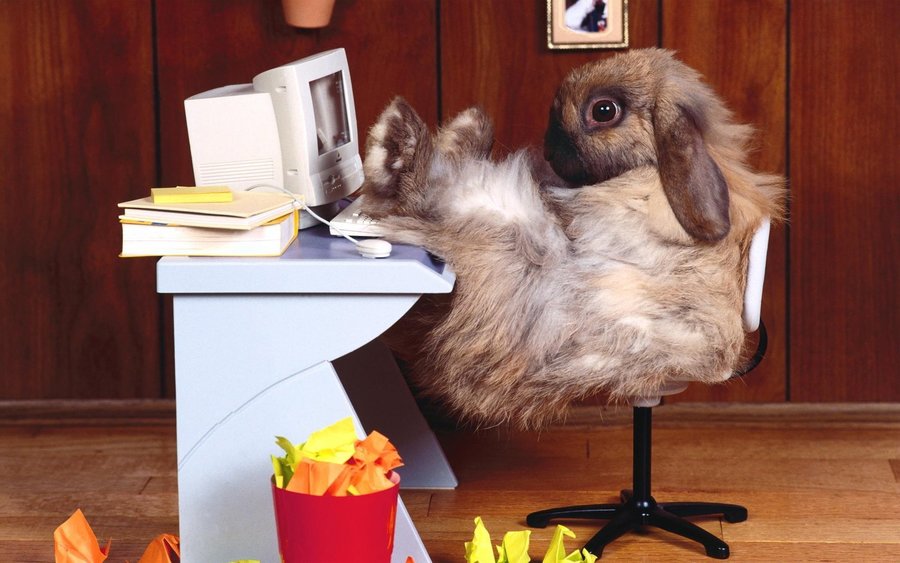 Happy Christmas!!
First of all, thank you so much for making the effort to come and see all the children in action for the year 1 production. They did such a brilliant job and you should all be so proud at how amazing they did.
If you want to have a sneaky look at what we have been doing take a look at some of the pictures below. We have been making lots of things such as Christmas calendars and Christmas cards. We had a very special visit from one of Santa's elves and we used the VR headsets to transport ourselves inside a snow globe.
The children have had such a fantastic first term and deserve a much needed rest over Christmas. I hope you all have a wonderful Christmas break and I look forward to seeing you all in the new year.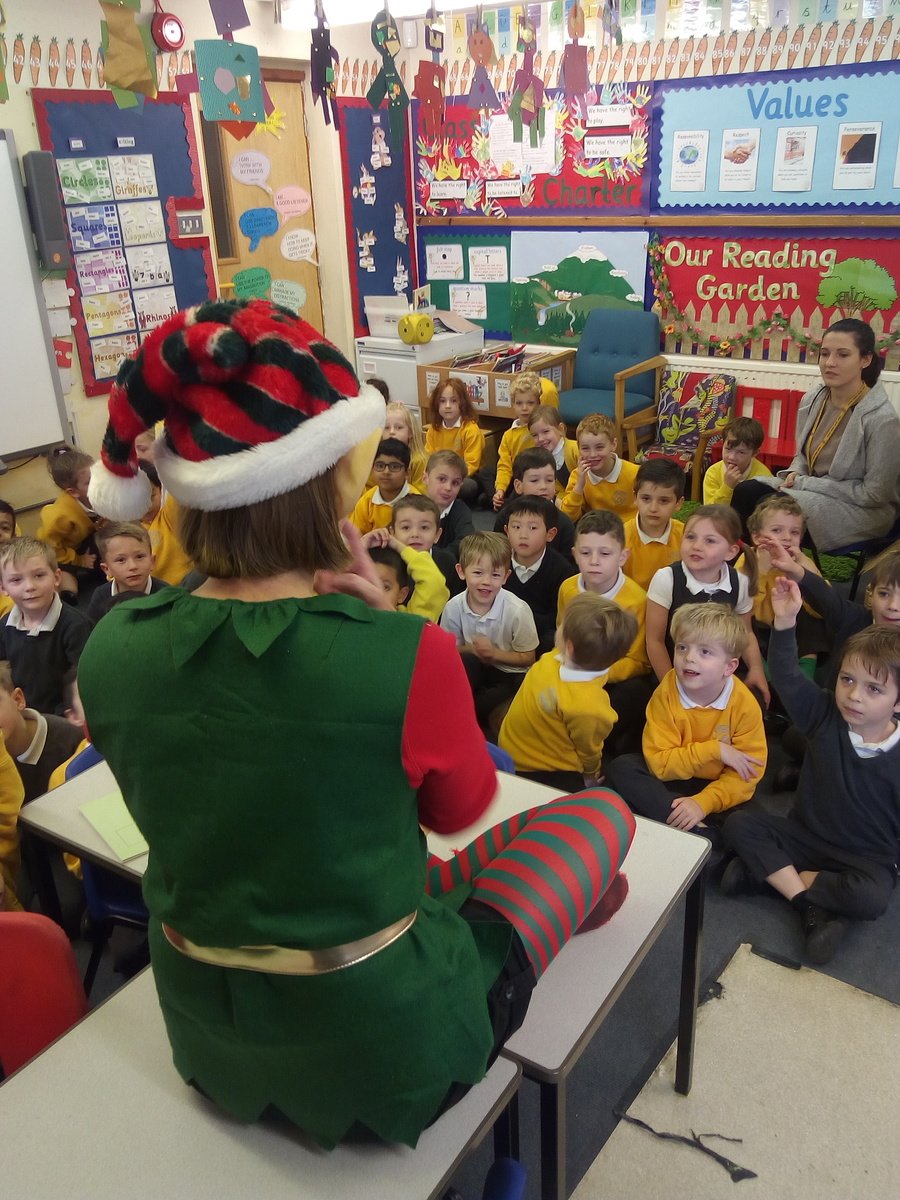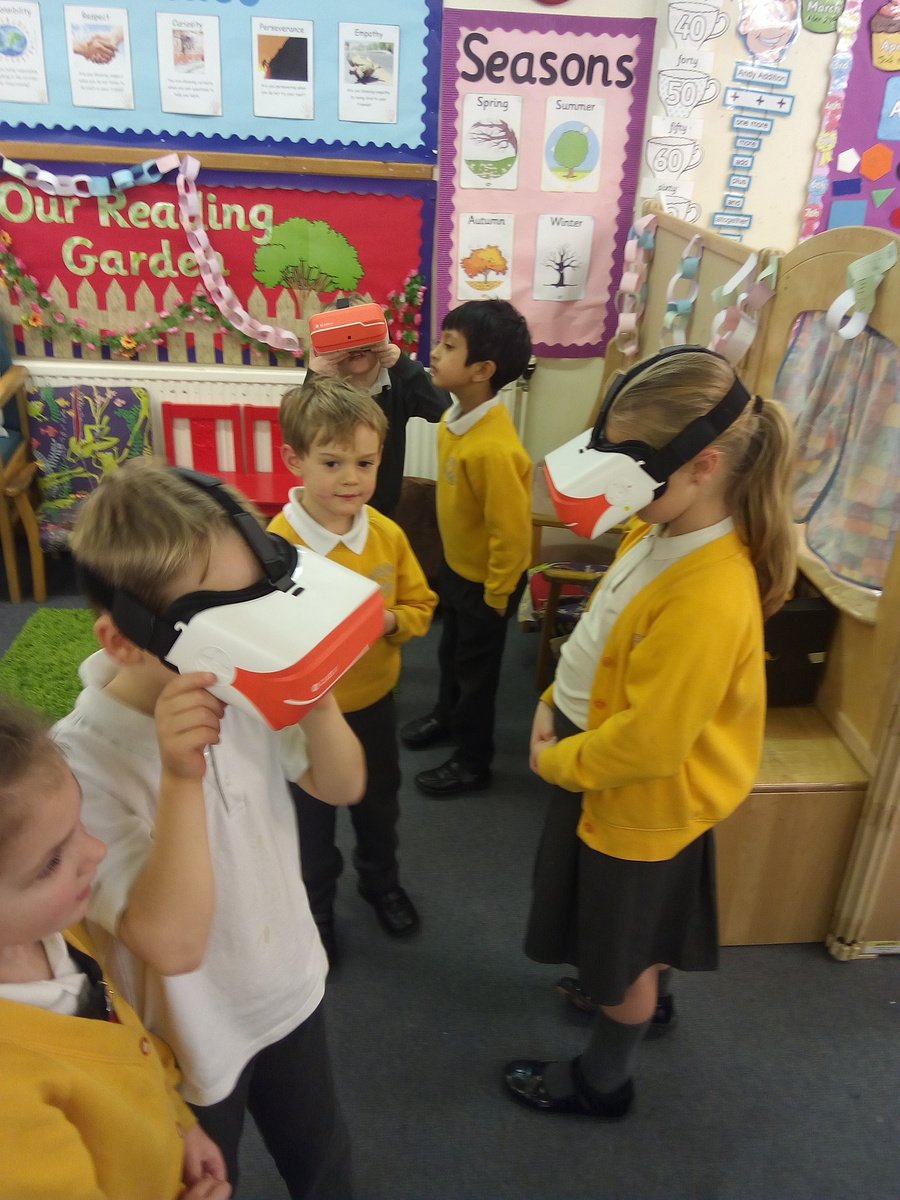 16th November 2018
Stretchy Socks
What a brilliant science investigation!
The children were given a (clean) sock which they had to first describe its properties. We decided socks were soft, fluffy, stretchy and made of fabric. Then, in pairs the children had to work out how stretchy a sock was. They used brilliant mathematical skills when measuring the sock before and after stretching. The children then used multi-links cubes to work out the difference in length.
16th November 2018
This week we have been:
Looking at, naming and describing 3D shapes. We made 3D shape sculptures and went on a 3D shape hunt outside

Exploring money by ordering coins from the smallest value to the biggest value and counting amounts in a purse

Practising my sewing/weaving skills and we have started sewing our hand puppets together

Writing the creation story thinking about using different sentence starters

Talking about what bullying looks like and discussed scenarios and what to do

Deciding which musical sound fits with certain words and playing the chosen instruments in a song
My Target: Name everyday 3D shapes in your house
11th November 2018
This week we have been:
R

etelling the beginning of the story of Pinocchio re-writing it sentence by sentence using capital letters, full stops and exciting vocab

Consolidating our understanding of tens of ones by representing a 2-digit number in a variety of ways

Using lots of different ways to represent the answer of an addition/subtraction/word problem to prove we have the correct answer

Evaluating our puppet designs and have started the making process by cutting out our felt templates

Experimenting with change in tempo and sequencing movements for our puppet dance

Exploring beat a rhythm in music
My Target: Write a list of adjectives to describe yourself
2nd November 2018
Science - Materials Venn Diagram
In science we have been looking at the properties of lots of different materials. We can confidently sort everyday objects from around the classroom into groups by looking at and feeling them. This week we explored objects made of more than one material and thought how we could sort them using a Venn diagram. We decided that one circle could be just metal, one circle could be just plastic and in the middle can be objects with both metal and objects.
Can you find any objects at home made of fabric, plastic or both and make a Venn diagram?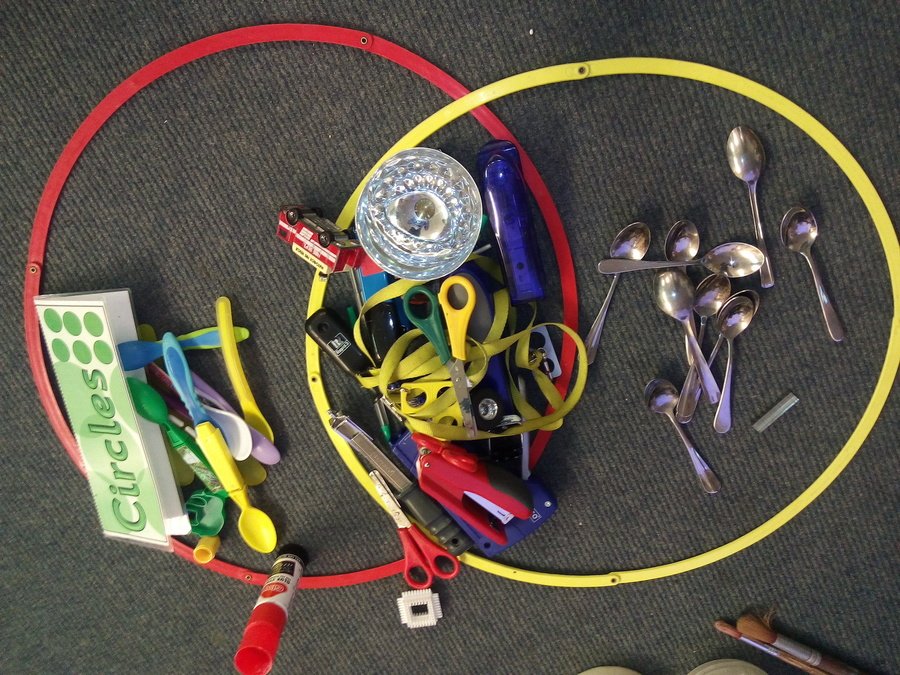 2nd November 2018
This week we have been:
Learning all about doubling and practising speedy doubling facts

Using doubling facts to solve number sentences adding 3 numbers (e.g. 4 + 3 + 4 = 11)

Planning several designs for my puppet using drawing and writing. We thought about what it will look like, who it is for and what it will do

Really creative and imaginative when coming up with a dance in the role of a string puppet

Investigating objects made up of more than one material and using a Venn diagram to represent this information

Looking at the creation story and how the Christian's believe the world began
Thank you all for coming to parents evening. It was great to see everyone and tell you all how wonderful your children are.
Have an amazing half term.
23rd October 2018
SHARK Place Value
Have a go at this place value game at home.
It is really simple. All you have to do is work out the number from the dienes quantity (tens sticks a ones cubes) and use your brilliant counting skills in 10s and then 1s to work out the number.
But be careful that the shark does not come and eat your boat!
Give it a go here: http://www.ictgames.com/sharkNumbers/sharkNumbers_v5.html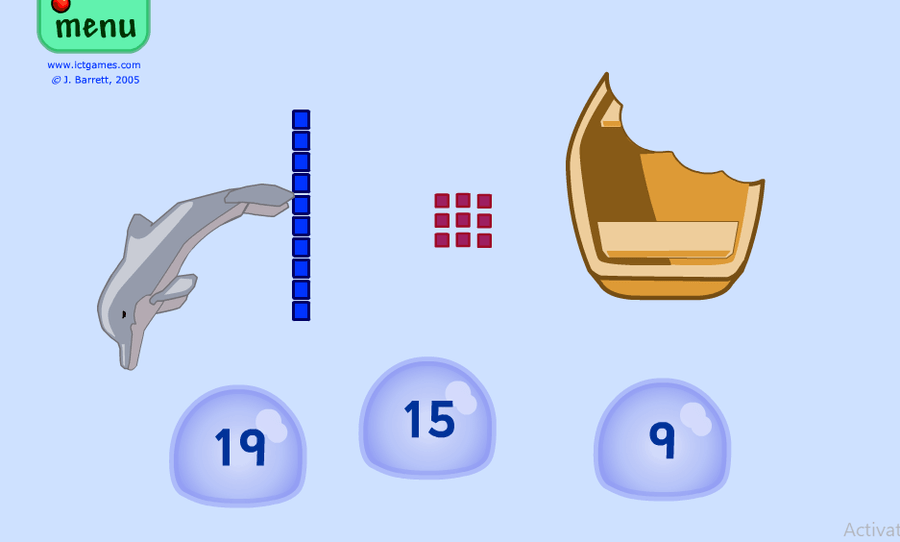 20th October 2018
This week we have been
Looking at 2-digit numbers and finding out how many tens and ones it has using dienes and arrow cards

Using my knowledge of tens and ones to start to order 2-digit numbers and say why one is bigger/smaller

Evaluating, editing and adding the finishing touches to our moving toy robots

Sequencing sentences together when writing a set of instructions on how to build a moving toy robot

Discussing the weather and thinking about what kinds of clothes you would wear in autumn and why

Practising standing on one leg like a pirate for 30 seconds (both sides)
My target: Build a sentence, say it, write it and check if I remembered all of the words. (Maybe write a simple set of instructions)
14th October 2018
This week we have been
Using our plans and editing as we go to create the basic elements of our moving toy robot

Exploring the world around us and keeping an eye out for signs of autumn

Thinking about sequencing sentences together to create a short story

Introduced to Abbey the wise owl in RE and made our own creation

Investigating how addition can be done in any order and how it is easier to start with the biggest number

Comparing the difference between odd and even numbers and spotting them quickly

Using the whole part method (mickey mouse ears) to solve subtraction questions
My Target: Speedily spot whether a number is odd or even.
5th October 2018
Red, White and Blue Day
Thank you so much for all your kind donations to such a worthy cause. The children looked brilliant in red, white a blue today and they thoroughly enjoyed doing lots of activities and learning about the cause. Take a look at them proudly waving their Union Jack flags below.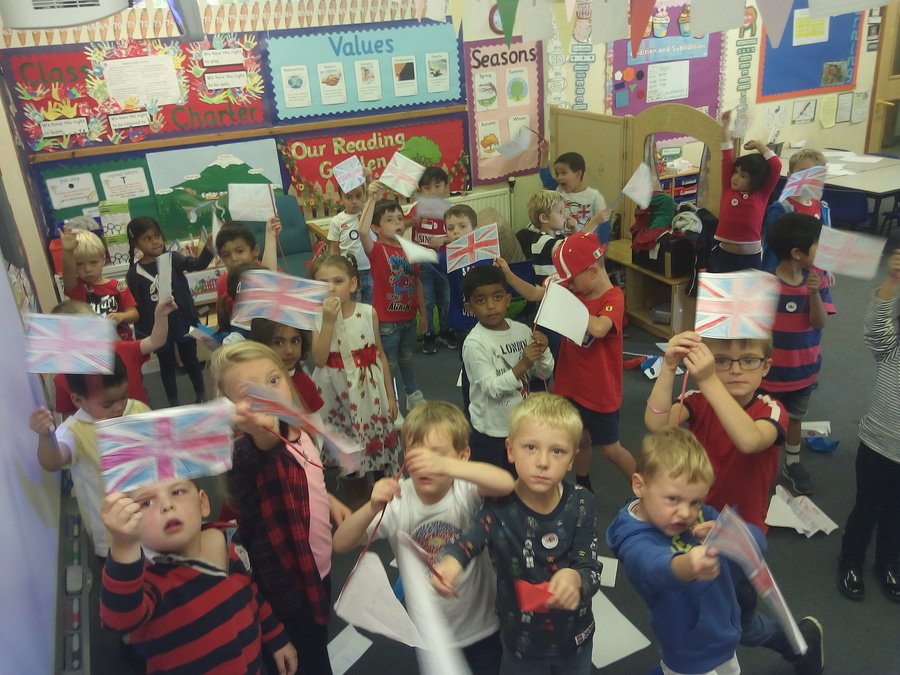 5th October 2018
This week we have been
Looking at the place value of teen numbers by finding '10 and a bit' with various objects around the classroom

Finding one more and one less of a number using a number line, objects or mentally

Writing a story using the Mighty Writer and thinking about using the word and to add more detail to our sentences

Planning and designing our very own moving toy robot. We had to think about what shapes, colours and materials we will need and how we will get it to move

Investigating various different fabrics in science and we talked about how they are similar and different

Celebrated Red, White and Blue day in memory of the end of WW1 by turning our classroom into a street party. We made our own union jack flags, bunting, paper planes and origami paper boats.
Target: To practise saying a sentence out loud and then writing it down. Can you use the word and?
30th September 2018
This week we have been
Writing some super sentences by orally rehearsing before writing it down

Using Carrbarrs or a number line to take away and count back a single digit number

Playing some quickfire addition games to increase our fluency

Investigating which is the best type of paper to paint on, draw on and mop up water with.

Developing my DT skills by creating my very own cup and ball toy

Experimenting with different sounds by using a range of instrument
Target: Play the game below, shut the box.
Shut the box
In maths this week we played a game called 'Shut the box'. For this game you need cards with the numbers 1-12 written on them. Then you roll 2 dice, add the numbers together and then for example if you rolled a 2 and a 5 that would make 7, so you would turn the number 7 over. You keep taking it in turns to roll the dice and add the numbers up and turn the number over until all the numbers have been turned over. This is a great game for you to play at home as it helps with the children's mental addition calculations. If you wanted to you could also record the addition sums. See below how we did it in class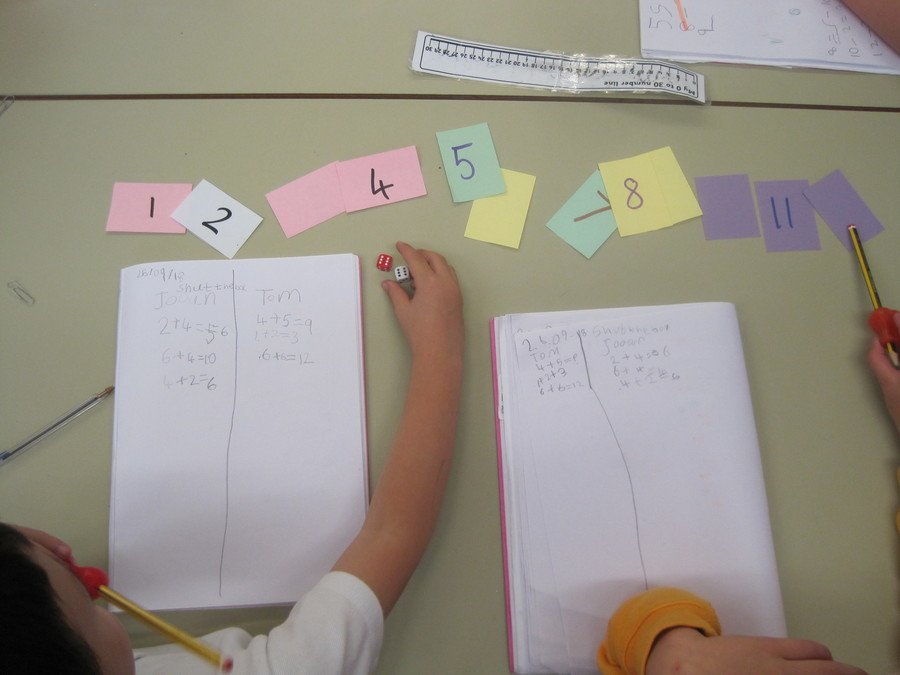 21st September 2018
This week we have been
Using Carrbarrs or a number line to add and count on a single digit number.

Looking at number bonds and becoming more familiar with my number bonds to 10.

Discussing what toys are like now and comparing them with toys from the past.

Writing simple sentences about my favourite toy using capital letters, full stops and finger spaces.

Exploring the properties of glass, water, brick and stone.

Thinking about what good learning looks like and what helps us to learn.
Target - Speedy number bonds - Try playing this game of 'Hit the Button' - https://www.topmarks.co.uk/maths-games/hit-the-button
19th September 2018
Tiny Toy Makers
Welcome to our new autumn term topic, 'Tiny Toy Makers'. The children will be investigating lots of different toys, past and present and evaluating what they like and dislike about them. Then, we will be designing, making, improving and evaluating the products we make. The toys we are going to be building in our own tiny toy workshop will involve levers, gears, pulleys and textiles so the children will have lots of opportunities to develop their DT skills.
Watch this space for some brilliantly made toys.
Here are some pictures of everyone enjoying our 'Wow Starter' and sharing with the class their very own favourite toy.
19th September 2018
Shapes & Patterns
The children had such great fun exploring shapes and patterns last week. They got very creative when making repeating patterns and they made some beautiful tessellating patterns too. Check out some pictures of them in action below.
14th September 2018
This week we have been:
Investigating 2D shapes and describing their properties

Looking at repeating patterns, including tessellating patterns using shapes

Exploring sounds around the classroom and sequencing sounds

Classifying and describing lots of different materials in science

Talking about my favourite toy and exploring other peoples

Writing some super sentences using the mighty writer
Target - What 2D shapes can you see in your home?
9th September 2018
Welcome Back
We hope you all had a great summer. The children have settled in brilliantly this week and below are some of the things we have been doing in class.
I will post a weekly review of all the learning done in Rabbits class at the end of each week so keep a look out.
This week we have been:
Getting to know our new classroom.

Practising our classroom routines.

Finding out about Rabbits and writing sentences about them using adjectives.

Counting forwards and backwards up to 30.

Drawing and painting our own self portraits.

Finding out about Jigsaw Jack in our PSHE lessons.

Creating our class charter and thinking about our rights and responsibilities.
Target - Practise counting backwards from 30 with an adult at home.