Welcome to our school Eco page.
23.5.18
Thank you so much for coming to our toy and book sale. You helped the Eco team to raise £77 for our Wild garden project. They worked very hard to plan and carry out the sale. What a great team!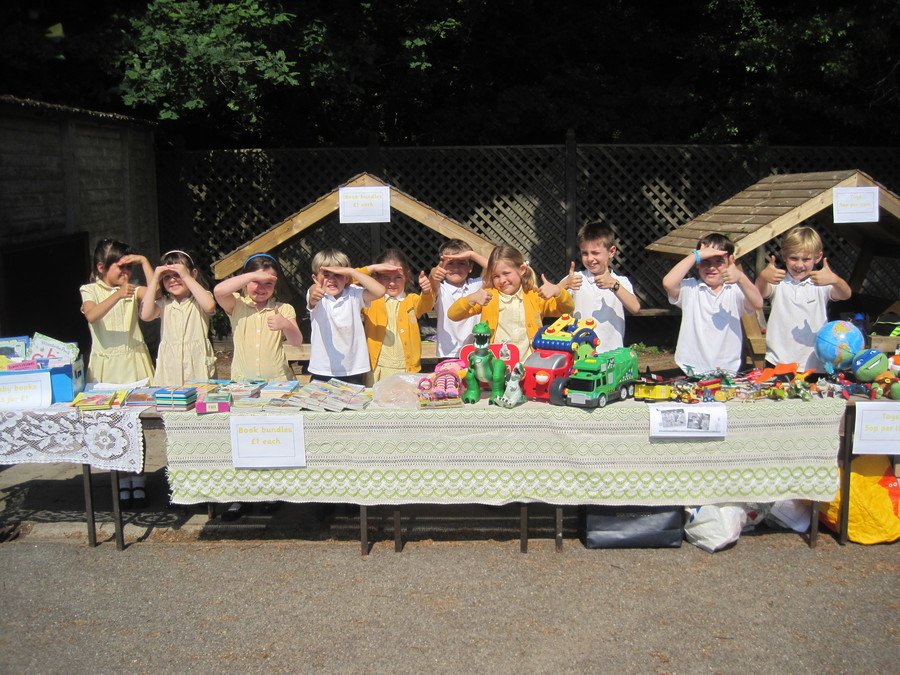 9.5.18
The Eco team would like to say a very big Thank you for all your generous donations of toys and books. We are looking forward to holding our toy and book sale on Thursday the 24th of May. What a great opportunity to grab a bargain boredom buster just before half term!
The money raised from the sale will go towards helping to improve our wild garden, which is a fantastic resource worth looking after. Looking forward to seeing you there.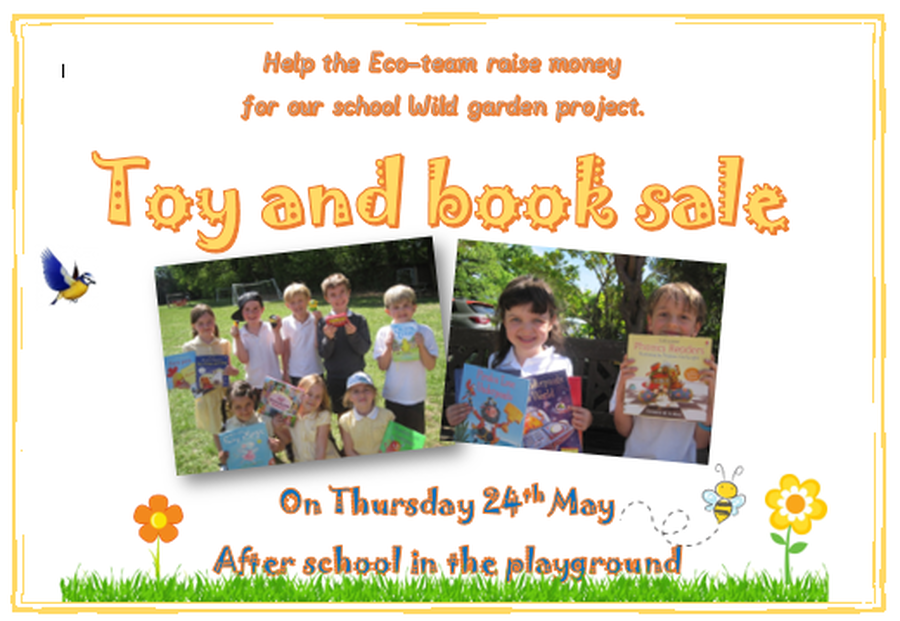 20th April
Just before the Easter holidays, our hardcore Eco team braved the downpour and spent some time clearing the class gardens. We found some interesting minibeasts and surprisingly a lot of carrots from last summer's planting. We enjoyed tasting them after our hard work.
We learnt a lot about weeds, and the parts of a plant; a cheeky squirrel had even buried quite a few acorns in the beds.
Big schools Bird Watch 2018
It's that time of the year again...Bird watching time! We are helping the R.S.P.B collect data so they can monitor the population of birds in the UK. Over the next 2 weeks each class will pop outside and count how many birds they can see over an hour. We have been keeping the bird seed topped up in the wild garden and hope to see a variety of different birds.
In Badgers class the children have been practicing to identify different birds and they have been learning about their different body parts. Have a look at some of their lovely art work they have been doing.
Switch off fortnight 2017
19th Nov- 2nd Dec 2017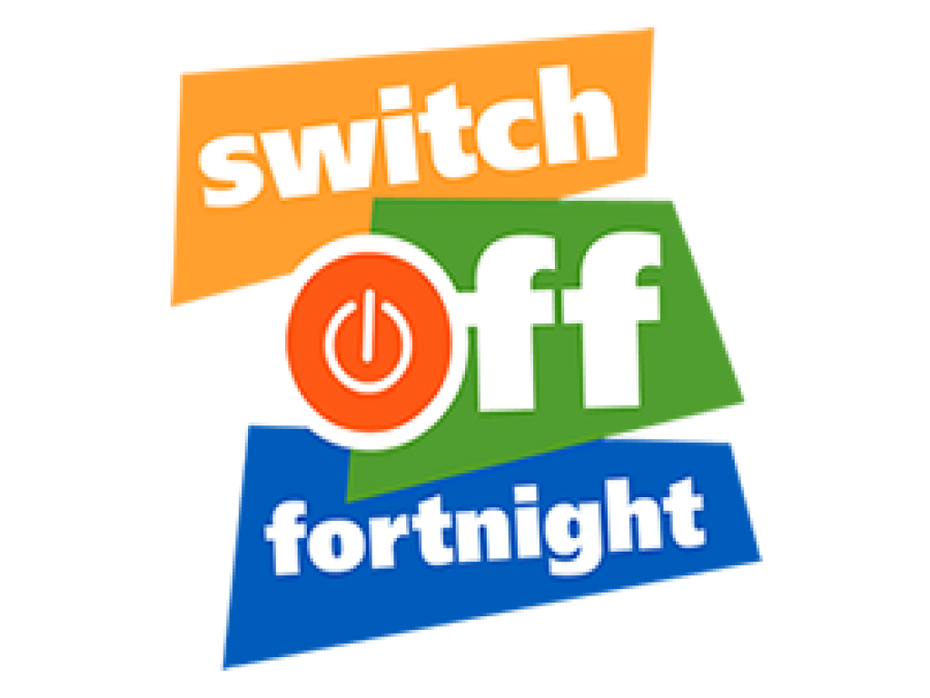 We have been thinking about how much electricity we use in school and why it's important to try to not waste it. Each class has been doing various activities including working by candle light, having a complete no electricity day and having switch off detectives who have been on secret missions around the school, to see who has been leaving their lights and computers on. Everybody did an amazing job at remembering to turn everything off that they were not using.
BIG SCHOOLS BIRD WATCH

This term every class has taken part in the Big Schools Bird Watch Project run by the RSPB. We counted how many of each type of bird we saw over the course of an hour and then Mrs Brodrick sent our data off to the RSPB so that they can track changing bird populations around the UK. We spotted lots of different birds including jackdaws, wood pigeons, robins, blackbirds, wagtails, magpies, blue tits, thrushes, starlings, collard doves, chaffinches and even a red kite!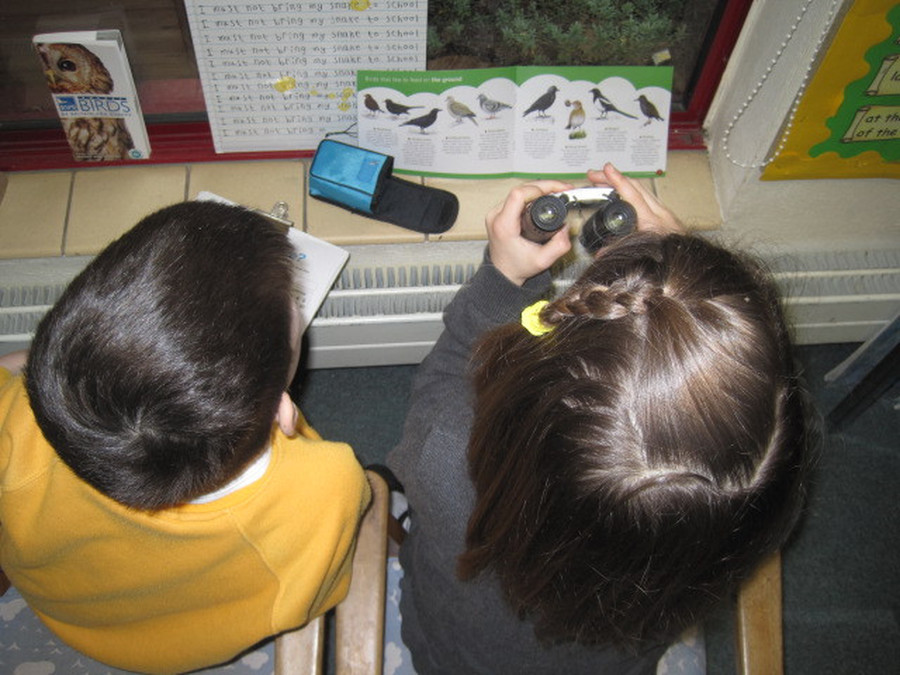 PLANTING DAFFODIL BULBS

This week the Eco-team planted daffodils in containers to display around the school grounds. We hope these will bring some welcome colour in the spring and also provide some much needed food for insects after the winter.
PUMPKIN GROWING COMPETITION
After a shaky start when many of our pumpkin seeds failed to germinate, we have now planted our pumpkins outside in our class gardens. We hope they'll thrive in the fresh air and sunshine and we have our fingers crossed that they are tough enough to withstand the inevitable slug attacks!
GREEN FLAG SUCCESS
We are proud to announce that after 2 years of working towards our targets we have been awarded our second Green Flag. Well done to all the Eco-team members, children, staff and parents who all worked together to earn this award.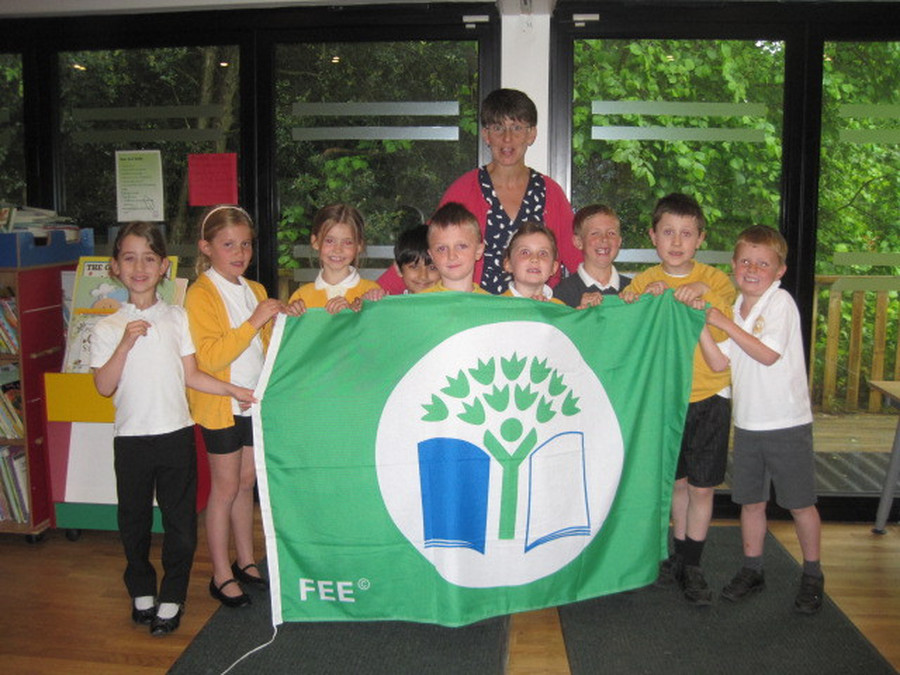 THE SPACE SEEDS HAVE LANDED !
Ascot Heath Infants has been lucky enough to be selected to take part in an amazing science experiment which will compare the growth of 2 packets of rocket seeds over 6 weeks. One packet has been circling our planet in the International Space Station with Tim Peake for 6 months, whereas the other packet has remained here on Earth. Will the seeds grow differently? Can we guess which ones have been into outer space? Red packet or blue packet?
The Eco-team took responsibility for planting the seeds and Squirrel Class will be looking after them and taking measurements at regular intervals. The data will be sent off in June and then we will receive a video message from Tim Peake to reveal which packet contained the "space seeds"! Exciting stuff! If you'd like to take a look at our experiment, come along to Squirrel class after school and see if you can spot the "space seeds" for yourself!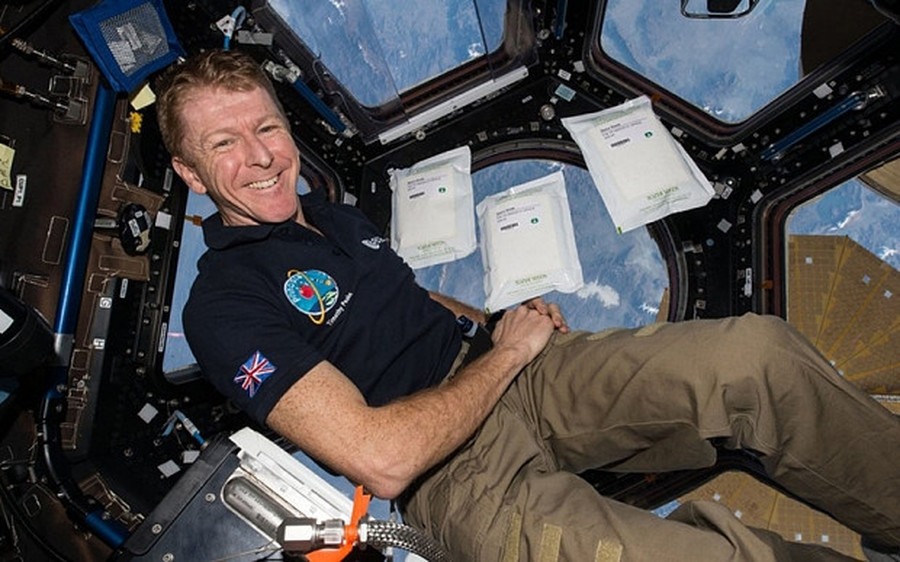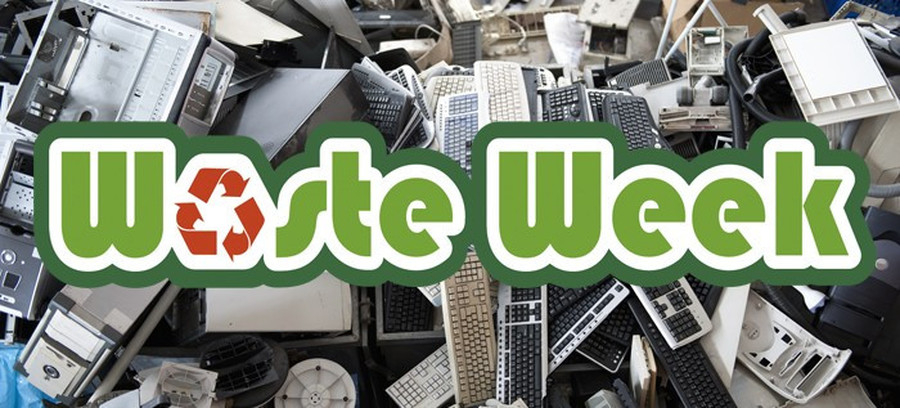 This week Ascot Heath Infants are joining forces with many other schools around the country to think about the waste we all create and how we can ensure that it doesn't spoil our world. The Eco-team led an assembly to introduce waste week - the children learned that WEEE is a big problem! (Waste Electrical and Electronic Equipment)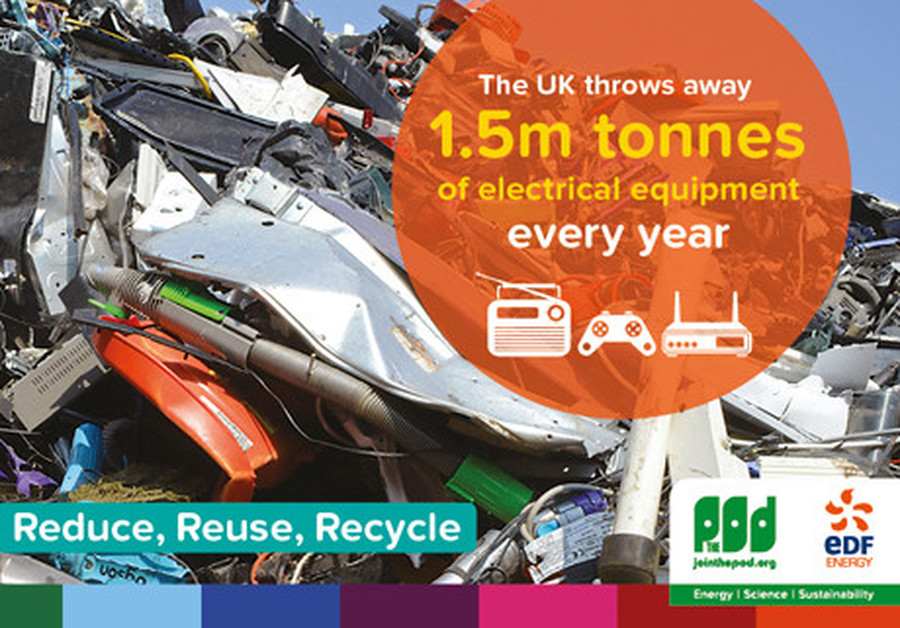 At school we try hard to follow the 3R's - REDUCE, REUSE, RECYCLE! Every class has a special bin for recycling paper and we also save off-cuts of paper for collage work. At break times we collect our fruit waste and take it to the compost bin. The PA have a textiles bank on site where we can recycle old clothes. We keep the school site litter-free with regular litter patrols. Old batteries are collected and taken to be recycled.
BIG SCHOOLS BIRD WATCH 2016

Mrs Frew took the Eco-team outside to take part in the Big Schools Bird Watch. Everyone enjoyed using her binoculars and identifying the different birds - we were delighted to see a flying heron in the first 15 minutes! We also spotted a blackbird, 8 gulls, 3 blue tits, a coal tit, a great tit, 3 jackdaws and a wood pigeon.
If you and your family would like to get involved, you can sign up for the Big Garden Bird Watch which takes place on 30-31 January.

https://ww2.rspb.org.uk/discoverandenjoynature/discoverandlearn/birdwatch/?gclid=CKKeu8SMvcoCFUKfGwodLmMD4w
OUR BIG TIDY UP - 5th OCTOBER 2015
Parents, grandparents and children all turned out, despite the atrocious weather, to tackle litter in the streets and lanes around our school. After 40 minutes of enthusiastic litter patrolling ,we collected this big pile of rubbish (plus an old sofa cushion!). A huge thank you to all those Eco-Heroes who took part and helped to make a difference in our community.
FAIR TRADE FUNDRAISING

Thank you so much to everyone who made cakes for our Fair Trade Cake Sale and visited our Fair Trade Cafe for a cuppa and a chat. We raised £114 for the Fair Trade Foundation which supports farmers in developing countries.
After a week of learning about Fair Trade in class, the children can all now recognise the Fair Trade symbol and will be on the look out for Fair Trade products next time they are in the supermarket!
CONGRATULATIONS TO LUCY PENNINGTON FOR WINNING OUR "DESIGN A POSTER" COMPETITION!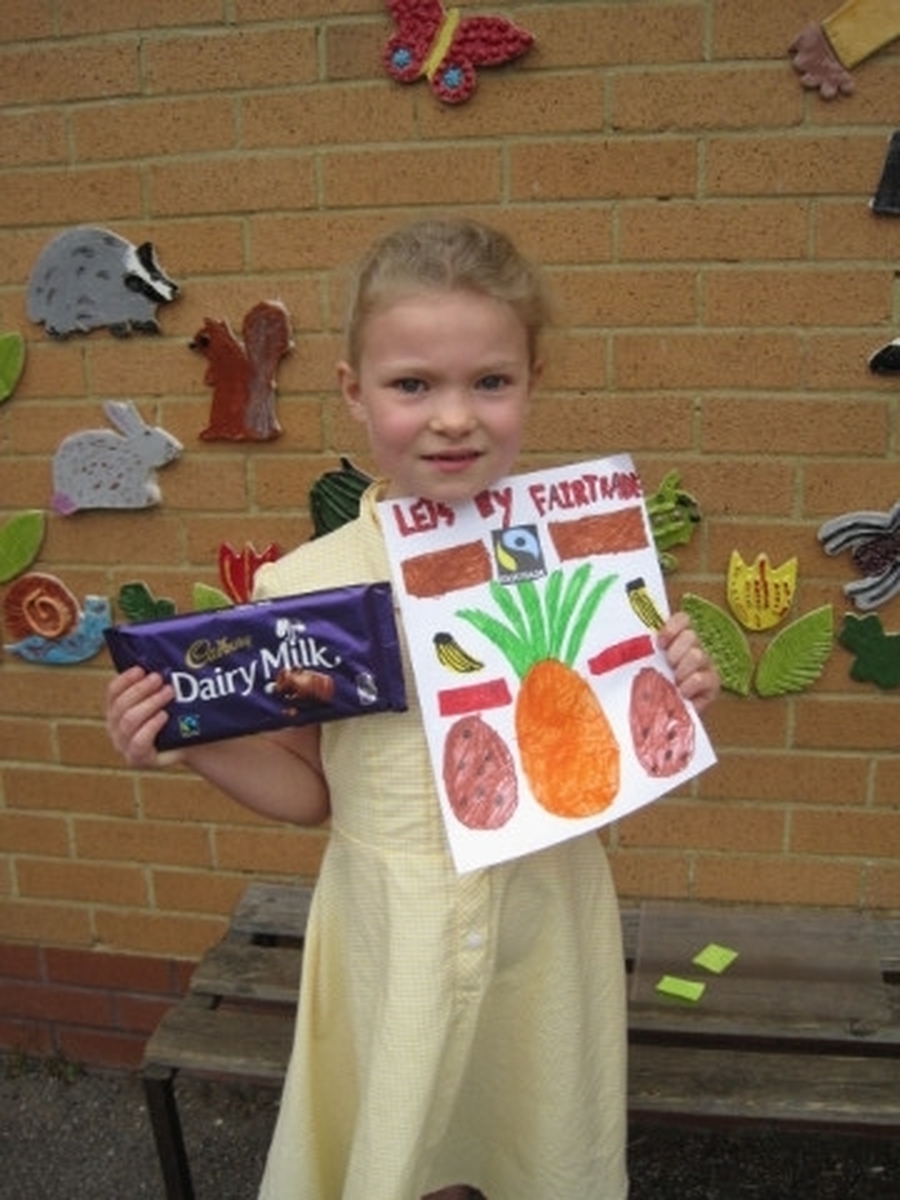 Fair Trade Week 30th March - 2nd April 2015 for more information click here
Walk on Wednesday starts 22nd April 2015. click here
THE BIG SCHOOL BIRDWATCH
This month Ascot Heath Infants took part in the RSPB's Big School Birdwatch. This project aims to get children interested in watching and taking care of their local birdlife and enables the RSPB to track bird populations across the country. The Eco-team made fircone bird feeders and set up a feeding station on the field whilst other classes set up feeding areas in the Wild Garden and outside their classrooms. Each class spent an hour watching the birds in our school grounds and kept a tally of the highest number of each species seen at one time. Mrs Frew kindly collated the data and sent off our school's report to the RSPB. We spotted robins, blackbirds, bluetits, pigeons, crows, wrens, magpies and thrushes. Squirrel Class enjoyed their own tasty "Bird food" snack (seeds, dried fruit, nuts and cheese) as they watched the birds feeding outside their classroom window!
Birdwatch Flyer click here Birdwatch letter click here
BUG HOTEL
The Eco-team enjoyed an afternoon in the Wild Garden putting together a Bug Hotel made from upcycled wooden pallets and materials such as bamboo canes, old flower pots, bricks and drain pipes which were kindly donated by parents. We're hoping to provide shelter and a food supply for insects such as spiders, woodlice, moths and earwigs and boost the insect population in our school grounds. In fact, the children were delighted to spot a spider and a slug already creeping about in our Bug Hotel - our very first guests!
Thank you to all parents who donated items for us to use, and a huge thankyou to Mrs Frew, our Parent Rep on the Eco-team, who came along to help with the construction!