Welcome to Squirrels - Spring term
Happy Easter to you all - have a lovely break and we will see you on 16th April!
Week commencing 19.3.18
We have been so incredible busy in the last few weeks! Mrs Gillard and I were both very impressed with the children in our class assembly. They learnt their lines wonderfully and performed really well on the day with lovely loud voices. They were very proud to share their learning with everybody that attended and especially enjoyed singing the songs!
This week in school it is book week. We are studying the book 'Tiddler' by Julia Donaldson.
So far we have used water colours to re-create the book illustrations, taken part in a dance themed workshop run by West End in Schools and talked lots about our favourite books. Photographs of the children's work will be added to the website throughout the next two weeks, so watch this space!
Week commencing 26.2.18
We've had a busy week in Squirrels!
On Monday the children took part in a Chinese New Year workshop and class based activities. They learnt all about the festival and how it is celebrated in China. The children were amazed when watching the dragon dancing around the hall and thoroughly enjoyed playing the instruments. In class we created cards, lanterns and re-told the story through role play and in our writing books.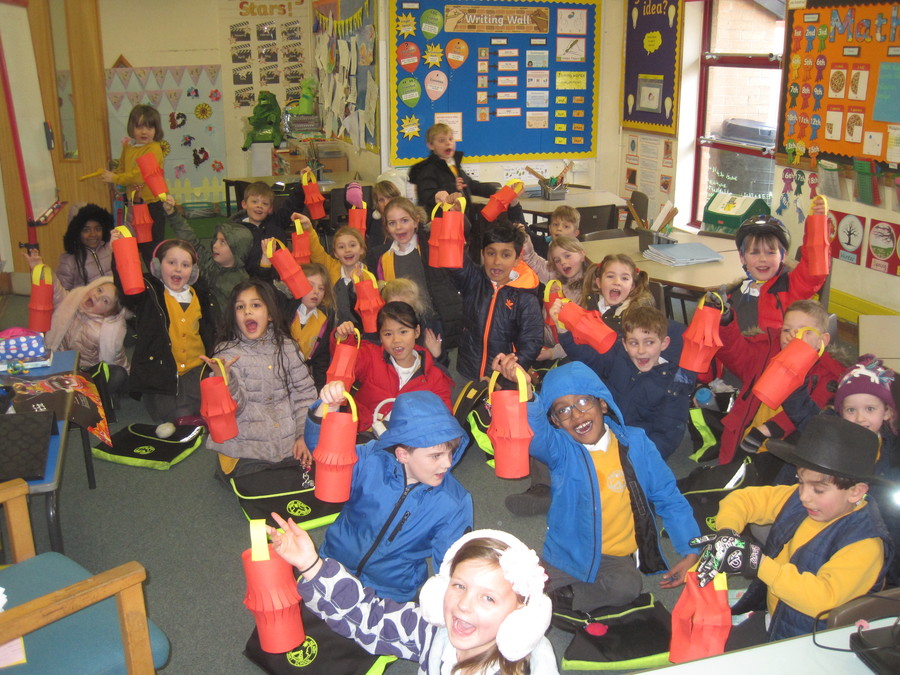 In Maths the children braved the weather and went outside to learn all about reading a millimeter scale. They did an excellent job!
Week commencing 5.2.18
This week we took part in Safer Internet Day. We began by attending an assembly led my Mrs Bates, who read us a story all about the importance of making kind comments online. We then recreated the activity in class by creating a piece of art work and 'leaving a comment' on each others work. We talked lots about the importance of these comments being positive and the consequences of leaving negative comments. The children were very complementary of each others work and really demonstrated how thoughtful they all are. Later in the week we completed an activity based on connections. We sat in a circle and talked about how we are all connected to one another. We created a giant web of connections, have a look at the photograph below!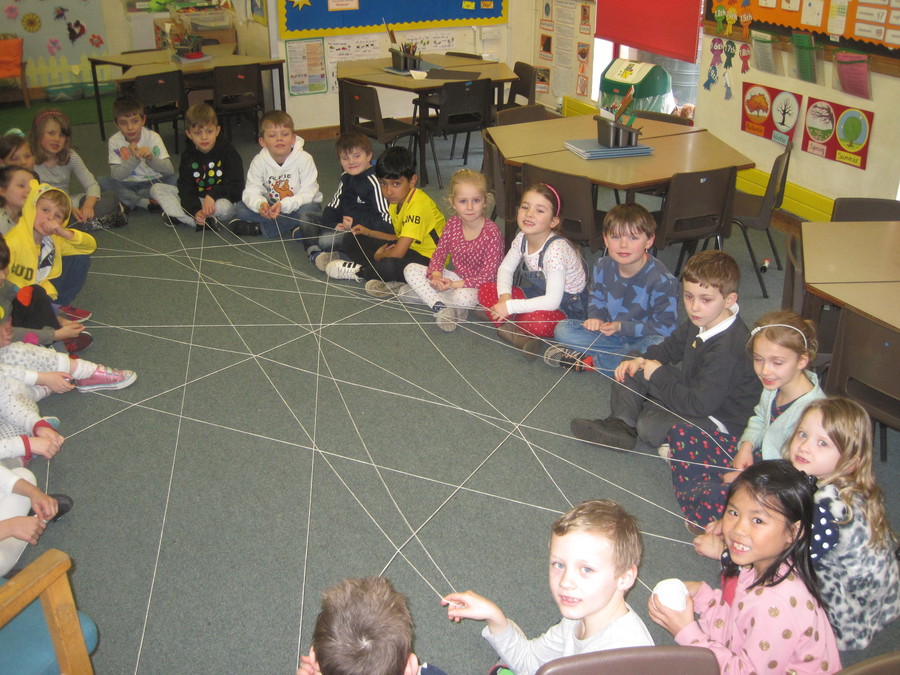 24.1.2018
In PSHE we have been learning to preserve. We have learnt a song that tells us not to give up. We had a go at making towers from cards. Have a look at the pictures below to see how we got on. You could also have another go at home.
What an extraordinary day we had today in Year 2! Just as we were about to launch our new topic, this arrived by email...
Following this surprise video, the children took part in several dinosaur themed activities to begin the topic. This included making play-doh dinosaurs, role play, learning how to draw different dinosaurs and reading facts all about the incredible species. The children are very eager to learn lots more, it was wonderful to see their enthusiasm today! What this space, whilst we become dinosaur experts!
Welcome back! We hope the children and yourselves had a restful break and enjoyed all of the festivities!
Spring term has arrived and it's time for a new topic...to be revealed this week beginning 8th January!
Week commencing 3.1.18
This week the children very much enjoyed creating 3D skeletons shapes using plasticine and straws. They had to think really carefully about the number of edges and vertices and it also involved lots of perseverance and team work!
Challenge: create a 3D skeleton at home using recycled straws and play doh.