Thank you to everyone for your generosity. We have had a lovely term and are all ready for a much needed rest (children included!)
We hope you have a very happy Christmas and look forward to seeing you all in the new year.
Love from the Hedgehog team!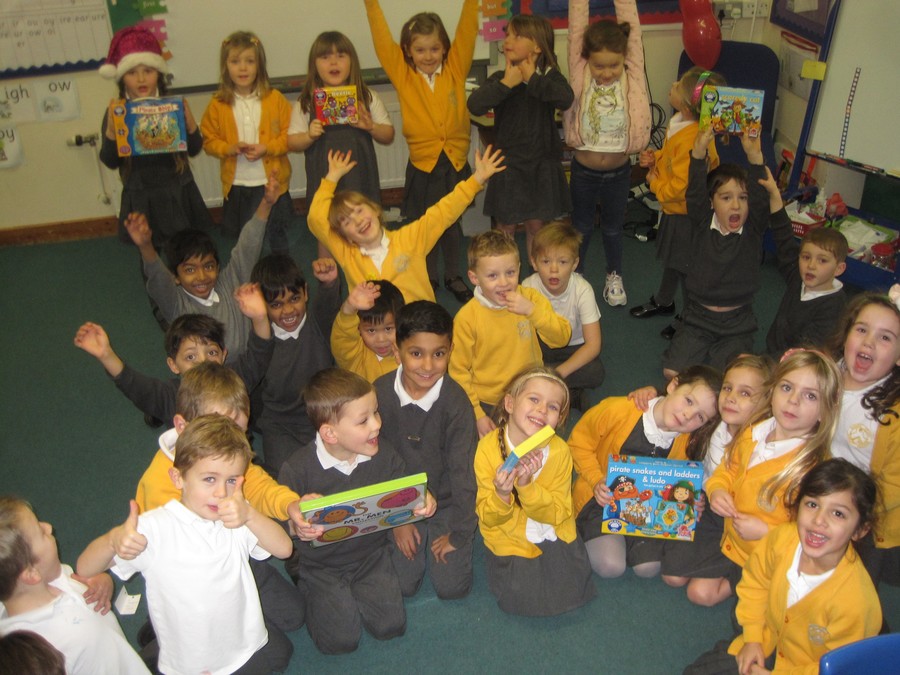 The children were thrilled to have a visit from Santa today! They were delighted with their presents and are looking forward to listening/ reading/ playing with them in the new year!
We were lucky enough to have a visit from an Elf this week! The children thoroughly enjoyed asking her a lot of questions, and later wrote some lovely letters to the Elf... she looked a little familiar...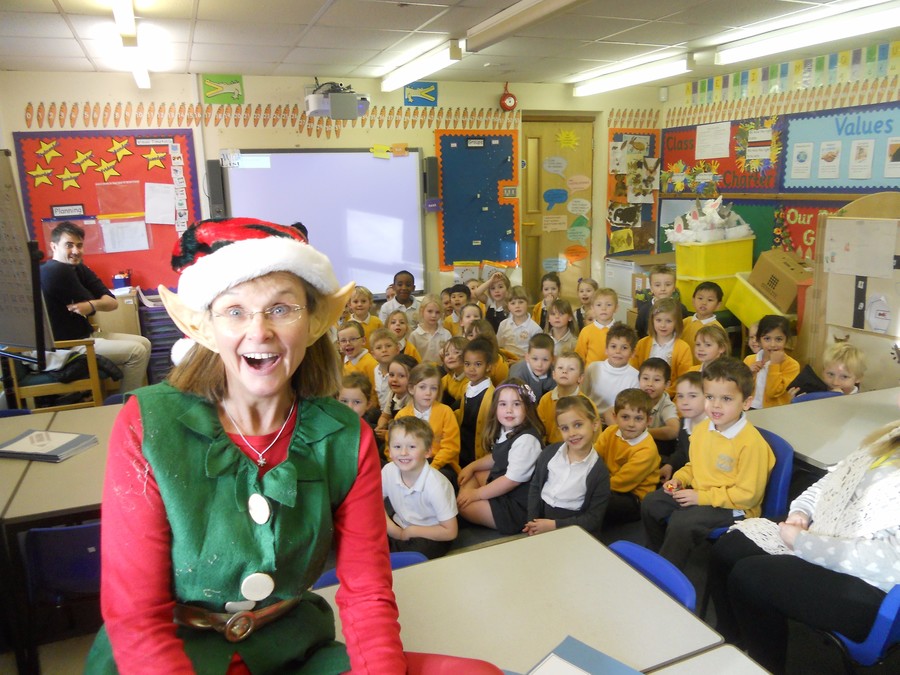 9th December
We have been getting into the Christmas spirit! We have been rehearsing for our Christmas play and we are getting very good at the songs, dances, words and acting. Don't forget to come and watch it next week if you can!
Last week we used our collaboration skills to work together to create the longest paper chain you have ever seen...we discovered (eventually!) that by joining our chains to other children's, we were able to produce a longer chain much more efficiently...
W.B. 21.11.16
This week in maths we have been learning to estimate amounts of objects accurately, before checking to find out the actual amount. We discovered that it takes more small objects fill a space than it does larger objects. Did you know it takes 1229 small hama beads to half fill a small bag?! We sorted them into groups of ten, and then counted together to find the answer! Our closest estimate was 1002...
We have also been measuring objects in pairs using non-standard measures. We used our estimating skills again, before working together to measure and record our answers in a chart. See below for pictures of us hard at work...
5.11.16
On Thursday we were very excited to receive our carefully packaged Pringles back from the Jolly Postman! We decided to put them through some rigorous post office testing stations to see how protective our packaging materials were.
Our boxes have been stamped, put in a sack and dragged to our post van, have taken a drop off the conveyor belt and finally, have been sorted according to size!
We were eager to open our parcels and were surprised and pleased to find many of the Pringles in one piece! Here are some pictures of our investigations...
21.10.16
Unbelievably, we have already come to the end of our first half term! The children have worked incredibly hard, and have made amazing progress already- and had some fun along the way! See below for a picture of them with their Pringles, carefully packaged and labelled (do not drop, throw, shake etc...!), ready to be sent to the Jolly Postman before we put them through our testing stations!
Happy half term! Please enjoy some rest :)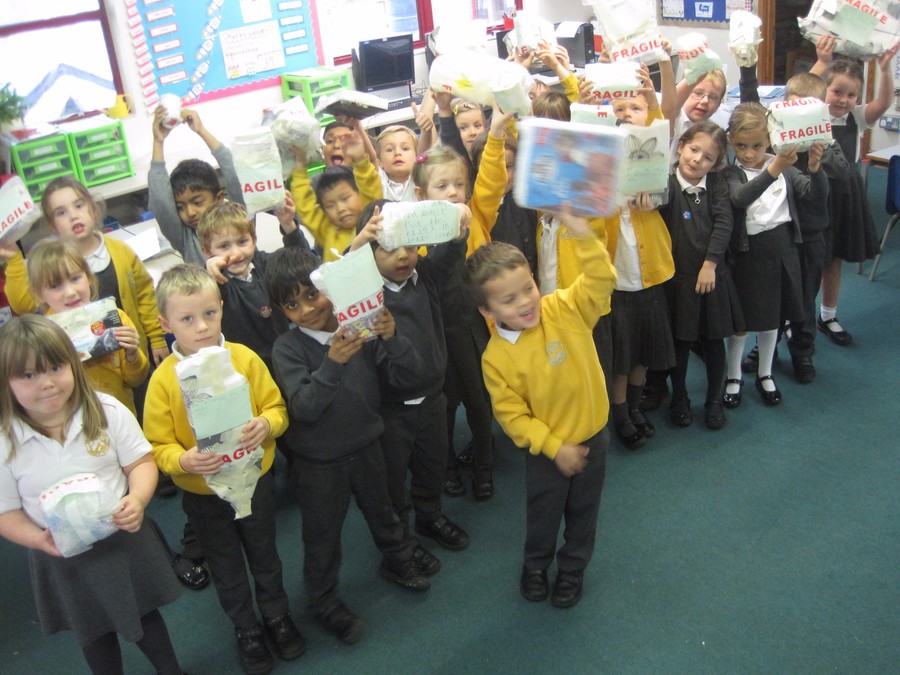 7. 10 16
We have continued to explore the properties of materials. This week we have looked at a variety of different papers and have tested them to assess their suitability for different purposes. We discovered that grease-proof paper does not soak up water efficiently, and kitchen roll is not good for drawing and painting on as it gets soggy and tears easily...! See below for photos of scientists at work...
30. 9 16
Last week we were very excited to receive a letter (and a broken Pringle!) from the Jolly Postman! This week, to help him in his quest to send a Pringle safely, we have had lots of fun investigating ways to make structures strong and sturdy. Here are some photos of our investigations in action...
Congratulations to our new School Council members Harley and April, and our Eco Team members Lydia and Eisa. We know they will do a brilliant job in their new roles!
15. 9. 16
The children have made a really good start to Year 1! They have begun to learn the new routines, and we have all started to bond together as a new class! It has been lovely to begin to get to know all the parents, grandparents and other carers at pick up, drop off and the new parents' meeting. I am trying hard to pair each child with their relevant grown-ups: thank you for your patience so far!
This week, we have been thinking and learning all about hedgehogs...next week, our new topic will be revealed!
See below for photos of us using collaboration and logic to solve our shape puzzles...