31.5.18
We have loved our Indian Summer topic so far! We have located it on a map and 'visited' different regions to compare with the UK. We have learnt all about the weather, animals and what daily life is like for children living in the Thar Desert...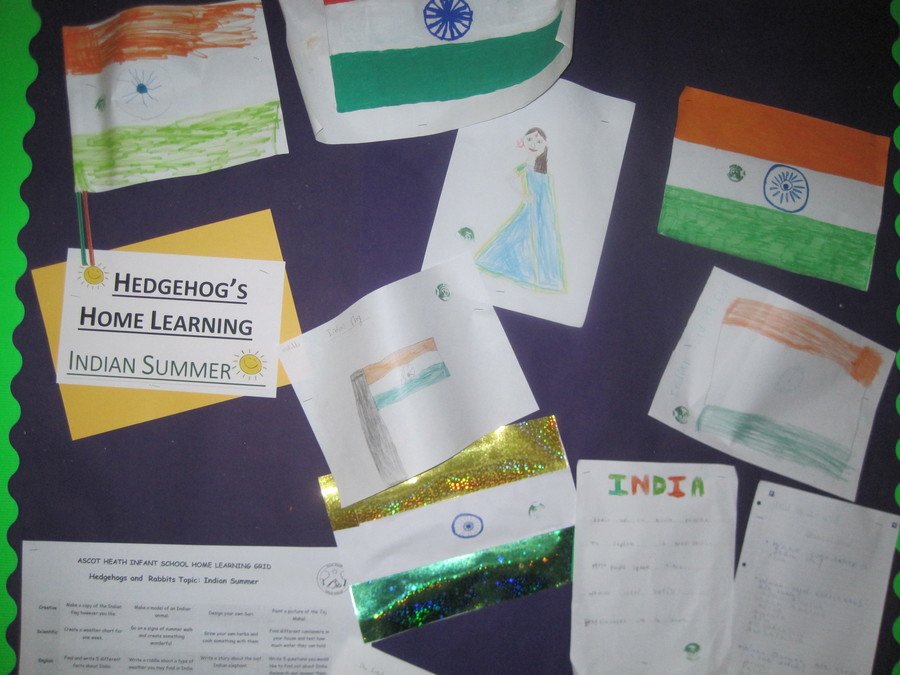 23.4.18
This afternoon we discovered our new topic was
INDIAN SUMMER!
We had a look at where India was on the map and how big it was compared to England. We shared what we thought we already knew, and then had a think about what we would like to find out. We then learnt a little bit about Holi, the Hindu festival of colour. After making Rangoli Patterns, we had our own colourful celebration...!
22.4.18 In class, we have been watching our blue tit(s) on the webcam - it has been busy making a nest and we are eagerly awaiting some eggs! The children are very keen to follow the blue tit's journey at home too - if you would like to, go to http://www.ascotheathinfants.co.uk/curriculum/science and click the link to keep watching...
16.4.18 - Maths week
We've had a great first week to our Summer Term, learning many new skills and consolidating our maths along the way! The children have shown brilliant teamwork, logic and creative thinking and have under-gone all of our activities with their usual enthusiasm! It was lovely to see some of you in school on Friday, watching our maths in action.
Check out our photos below...
Learning to play Snakes and Ladders...
Designing and making our own versions...
KS1 maths swap around - maths through geography...