21. 04.17
What a busy first week back it has been. Our new topic is Amazing places and spaces.
The children used compasses and a map to find some very special treasure- a bird's nest with 3 shiny eggs! When they returned to class after lunch the 3 eggs had vanished. Where they went to, remains a mystery however the children have planned some exciting stories about the missing eggs.
On our return to school we also discovered that our bird box also had some treasure in. Here is Anaya's blog entry.
Welcome to badgers class bird box blog.
We have been checking in on Billy and Bella. Bella has laid ten eggs!
Mrs Rogers said whichever class sees the eggs hatch first will get a prize and we are hoping they will hatch and that we see it first.
Bella has been keeping the eggs warm and Billy brings her worms.
By Anaya.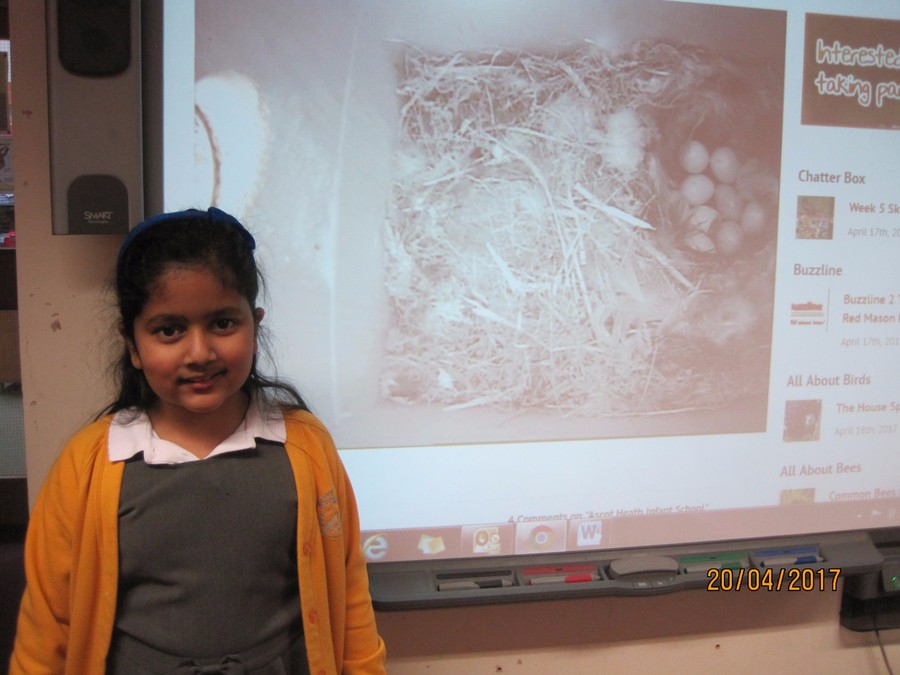 29.3.17
We have had another wonderful week of our book topic! The West End Theatre company came in to lead a dance session based on Where the Wild Things Are. We all had great fun and certainly showed our wild side!
We had a fantastic time making pizzas and having our own rumpus party. Thank you to the parents who donated food for our pizza making.
At school we have regular P4C (Philosophy for Children) sessions. The children know that during these sessions we do "clever thinking." To link in with our book topic, we explored whether we all have a wild side. Have a look at the comments the children made!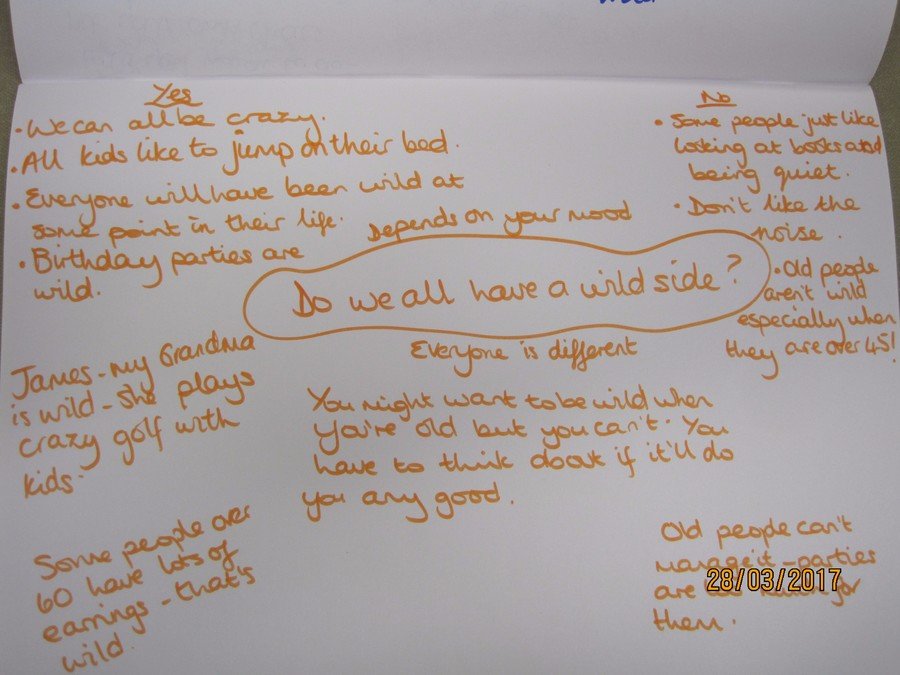 20.3.17
Today we started our book topic weeks. Our focus book is Where the Wild Things Are by Maurice Sendak. We were extremely fortunate to have the Fasbat team come into school to lead drama sessions for the whole school. We had great fun acting out the story!
6.3.17
Today we have been learning all about venn diagrams in maths. We chose our own criteria for sorting and then sorted our objects accordingly. It was great fun and we had to think hard about what to do with the objects which didn't fit anywhere. Can you see in the pictures what we did with them?
We have been having lots of fun in our Top Play sessions in PE. This week the coach taught us lots of rugby skills including throwing behind, catching and touching the ball down. Have a look at us in action!
1/3/17
Last week we tested our special packaging that we had made, to see if it would safely carry a Pringle from one destination to another. We tested 6 different packages.
We thought carefully about the journey a parcel would go on and tried to recreate that in the class room with our own packages.
Each package experienced the post bag, post van, being sorted and squashed with other parcels and being delivered to it's destination. Our postmen were a little rough and heavy handed at times but we had great fun carrying out the investigation and we were very excited to see if the Pringle had survived.
Amazingly after all this we had some success!
We learnt that the less space there is inside the parcel, the more likely it is that the Pringle would stay in one piece.
We had a busy afternoon of den building last week in Badgers. The children loved the opportunity to work outside. It was a little chilly but that didn't stop us! The children practised lots of skills such as communication, sharing, helping others and cooperation as well as thinking about shapes and structures and how to secure different materials. The scale of the challenge was a little daunting for some however it was certainly character building and a valuable life experience.
Hexagons group in maths made a function machine to help us solve tricky number sentences such as 12 + ? = 25. We decided what the machine's function was e.g. add 10 and then posted a number into the machine. We then had to think about what number would come out. Then we put a number in and a number came out, so we had to work out what had happened to that number before it came out.This is a great activity to do at home.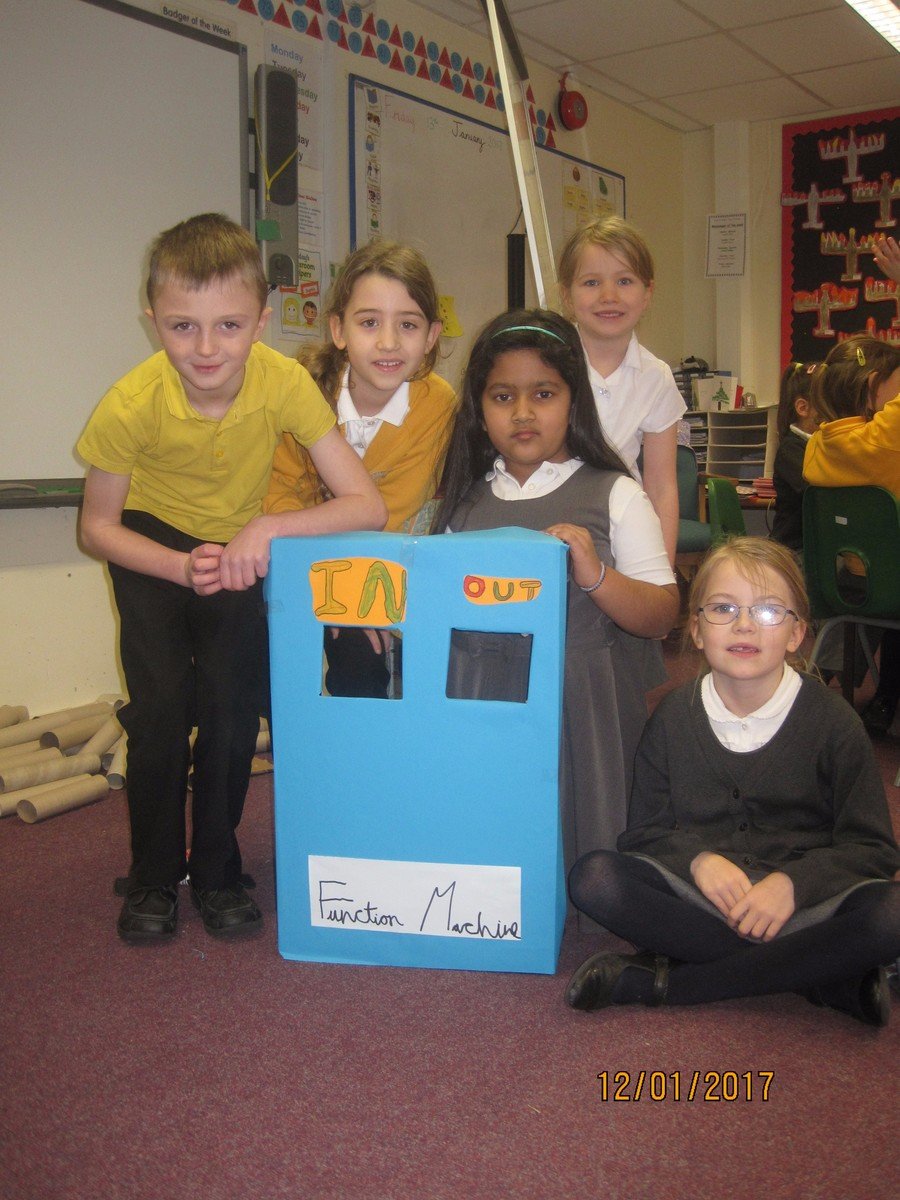 11/01/17
We hope you all had a lovely Christmas break. The children are settling nicely back into school routines and seem eager to get stuck into our new topic.
On Monday we received some special post. A letter arrived from the Jolly Postman and inside we found a letter and a broken pringle. The Jolly postman needs our help to investigate the best way to send a pringle to Goldilocks in the post without it breaking.
We will be investigating different types of packaging and structures: materials and how to strengthen them, shapes and measures,letter writing and what happens to our letters and parcels when we post them. Please do see our topic web for more information about what we are learning this term.
Do please keep reading, learning those common exception words, number bonds and times tables.